SEVEN SISTERS OF AVALON SERIES
(As of 2016, 4 books in this series released and 4 to go!)
_____________________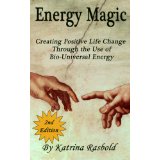 Energy Magic (With Eric Rasbold)
This is the book that started it all! Now in its 2nd edition, Energy Magic gives the basic overview of how to use bio-universal energy to manifest positive life changes. While the books listed below that are a part of the Bio-Universal Energy Series go into in depth explorations of the ideas mentioned in this book. Read Energy Magic to lay the foundation for future study, then use the Bio-Universal Energy Series to build on that established structure. – Part of the Bio-Universal Energy Series
"I have really enjoyed reading books by Katrina Rasbold and Eric Rasbold. Energy Magic was pure pleasure to read. If you have ever wondered about energy magic, or how to manifest your goals, then make sure you read this book. It is very easy to follow and you don't feel rushed through any topic in the book. I felt as if I was sitting on a sofa with Katrina Rasbold and listening to her answer all of my questions about this subject. If you have read any of her other books you know that she has a no-nonsense approach to explaining things in easy to understand terms and easily processed information. I look forward to reading more in the bio-universal series!!!" …Aphia Stanwood
Also available as a combo with CUSP as Energy Magic Compleat
_____________________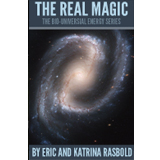 The Real Magic (With Eric Rasbold)
The shifting energies of the New Age brings to mankind a unique and powerful method of life altering manifestation that is made possible through the philosophies and methodologies introduced in this book.If it is your desire to break free from the worn and trivial round of life and ascend to something higher, more engaging and more satisfying, then the CUSP philosophy is for you.This practice has revolutionized spiritual knowledge as it brings the energies of action on all levels: the physical, emotional, and mental, together to connect with and influence the power that exists in the heavens and on the Earth. As above, so below.
_____________________

CUSP: A New Way to Walk An Old Path (With Eric Rasbold)
For more than 16 years, Eric and Katrina have used the CUSP spiritual path, which they personally constructed, to – without fail – create positive, long term life changes and manifest their personal goals. Now, they share with you the principles of CUSP and teach you step by step how to employ this magical and effective system, regardless of your own personal religion or spiritual path.
"Eric and Katrina Rasbold understand the shortcomings of previous approaches to the universal desires of health and happiness, growth and achievement, and present us with a new take on an ancient concept – that of a continuous spiral growth cycle patterned upon nature. You need not be a New-Age person or a Wiccan to understand and employ these methods – this is a religion-free zone of personal growth and exploration. You'll learn about the agricultural year and seasonal changes and influences that have been affecting humankind for thousands of years, with of without our recognition. CUSP shows the reader how to recognize and make use of the universal energies available to us all, and how to use these energies to achieve personal growth and fulfillment of desires. If you don't wake every morning full of excitement to see what wonderful new things the day has in store for you, or you don't see your life unfolding the way you'd planned or desired, then this book is for you."  …K. Albeck
Also available as a combo with Energy Magic as Energy Magic Compleat

_____________________
Energy Magic Compleat (With Eric Rasbold)
This book combines the two books that started the very popular bio-universal energy movement! Energy Magic provides concise instruction for using bio-universal energy to create positive manifestation for immediate needs. CUSP provides a year long framework for manifestation long term, positive life changes.
"I just recently bought this book, and I was very happy to find Energy Magic coupled with CUSP. This book is a great guide to manifesting happiness and abundance in your life. I have seen and read many of the Law of Attraction films and books and while they explain the idea that everything is essentially energy, and as such it can be influenced – when it comes down to HOW can it be influenced and HOW can I tap into this potentiality, much of it falls short. Energy Magic goes beyond that to be a concrete guide with very practical explanations of how to use the Law of Attraction and manifestation in your life. CUSP is a spiritual guide for the year that honors the natural cycles of the earth and connection to the Divine. I highly recommend this book." …WriteGina2
_____________________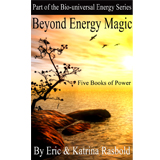 Beyond Energy Magic (With Eric Rasbold)
This book combines the five books in the Bio-Universal Energy Series that explore in depth the information presented in Energy Magic. Reuniting the Two Selves, The Art of Ritual, Properties of Magical Energy, Days and Times of Power, and Magical Ethics and Protection are combined into one wonderful volume!
_____________________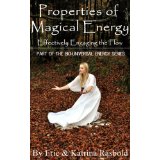 Properties of Magical Energy (With Eric Rasbold)
What speeds up magical energy? What slows it down? This book will take a detailed look at the specific properties of magical energy and apply current principles of physics to this sacred subject. Give your magic more impact by eliminating obstacles and using particular procedures and tools to increase its flow.
"This book leads you to the connection between what your view on energy is and how it really connects you to everything in the universe. A great and informative piece of literature. Anyone lucky enough to read it will find enlightenment. I am always looking for more and in this book that's what I found."  …S. Ramsey
Also available with four other books of power as Beyond Energy Magic
_____________________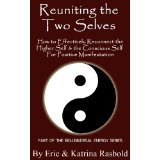 Reuniting the Two Selves (With Eric Rasbold)
We each have two "selves" within us that work to create not only our personality, but also our life experience. A de-emphasis on the spiritual aspect of life in our society has caused those selves to become divorce from one another so that it is difficult for them to interact. This book discusses in depth how to reunite your two selves and use them effectively to create a magical life that you love to live.
"I've growing higher in my spiritual learning curve, and this book is a confirmation of what I'm experiencing. It's good to see that I'm on the right track. The authors are very perceptive and descriptive." …Marquisa
Also available with four other books of power as Beyond Energy Magic
_____________________
Although each person must establish and follow their own moral code of magical practice, there are certain basic premises that always seem to apply. This book takes a look at how a person can achieve their goals without sustaining karmic backlash. The book also has a section on how to magically cleanse, empower, bless, and protect yourself and your home.
"This helps make working with good energy and removing negative energy easier to understand especially for readers they don't have experience in the subject matter."  …Annie
Also available with four other books of power as Beyond Energy Magic
_____________________
This book goes into detail about the optimal process for creating an effective and sacred ritual for reaching up to the Divine and working to manifest our positive life goals.
"This is a good book for those who wish to be more spiritual, regardless of your religion. It explains rituals and traditions and why we need them and how to get the most out of them. It's also in the Bio-Universal Energy series, and I got to read this before it came out, and there's lots in here about how to get energy and how to store it and release it. So many little things we do every day have their roots in paganism. Write something that is upsetting you on a piece of paper then burn it? Altars and effigies to help focus your prayers? Rosary-like items and candles? All from the old religions. The same reverence and respect is there, and this book teaches you how to make the most of your craft and worship fully and how to get the most from each experience."  …Cowa
Also available with four other books of power as Beyond Energy Magic

_____________________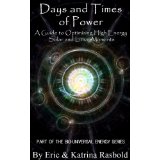 Days and Times of Power (With Eric Rasbold)
On what days and at what times should you perform energy work to maximize particular energies you want to emphasize? This book gives helpful hints on solar and lunar aspects, as well as holidays, weather conditions, and times when the veil between the worlds is at its thinnest. A technique is also included for how to store the energy of particular days and times to be used in later work.
"This was an amazingly insightful book well developed. I couldn't put it down, I found so much useful information and this book really made me think. Truly Knowledge is power and the paper housed between these covers is brimming with knowledge. A very enjoyable read thank you Katrina!"  …Dan Malone
Also available with four other books of power as Beyond Energy Magic
_____________________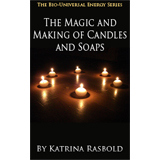 The Magic and Making of Candles and Soaps
This book gives detailed instructions on the making of soy and paraffin candles, as well as poured goats milk base soap. The process of storing energy into soaps and candles is explored in depth.
"This books adds a new dimension to my soap making. Making soap with intent and meaning has given my crafting soap added purpose and energy. In addition, the author provides the technical directions for making both candles and soaps. She also provides vendor information for the components. Suggested for both new and experienced crafters."  …K. Brown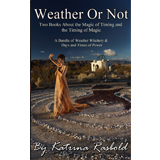 Weather or Not
This delightful and informative book combines Weather Witchery with Days And Times of Power to create a two-book combo that preps you for every weather event, moon phase, sun transit, or other profoundly powerful natural occurrence. Katrina talks you through specific magic to perform for maximum effect at each of these amazing and magical moments.
_____________________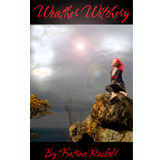 Weather Witchery
What is more powerful and magical than becoming one with the weather around you? Since time began, those who control or can predict the weather are heralded as sacred and valuable. Weather is an intricate part of Nature and Nature is, of course, the Witch's playground. A practicing Witch of more than thirty years, best-selling author, Katrina Rasbold, walks you through all aspects of weather magic, including how to us the energy of different weather events to your greatest advantage and how to work with weather to manifest the type of weather you desire. Blasting through the naysayers and fear-mongers who insist that weather witchery is too intense for a common Witch or that "messing" with the weather only brings negative results, Katrina shows how one can easily work with the energies inherent in different weather systems and meld into the magical processes of Nature.
_____________________
Being a Queen is a calling, but it is one that too many women receive and do not honor.  This book is for those women who need a kick in the pants to stand up and start doing the princess wave. Being Queen of Your Own Life is a strong step toward owning and flaunting your authentic self and a vibrant path to creating the life you truly want to live, so get out those sequin clothes and your best tiara and let's go to town.
"A can't put it down until you read it all book. Insightful and informative with some humor thrown in along the way. Loved it. I will be rereading this often until I get my Queen on for sure and certain."  …CountryGirl
_____________________
Tarot For Real People brings more than thirty years of experience reading the Tarot to this amazing and easily applicable handbook on how to interpret this wonderful oracle. With detailed instruction on how to develop your own interpretations to blend with the classics,Tarot For Real People delivers exactly what it promises. Real people, with or without natural intuitive powers, can begin performing effective and meaningful Tarot readings by following the instructions contained in these pages.
"Katrina write as she lives her life, with warmth, laughter and an intelligence that can't be denied. Tarot for Real People reads with simple, yet profound ideas on Tarot and life in general. To follow her instruction is to be lead through a deck of self-awareness, awareness of those around us and the world as a whole. I love this book!!"  …Tammy C.
_____________________
Spiritual Childbirth explores the reclaiming of the power of childbirth by women as their own birthright; a process that began in the 1960s, advanced in the 1980s, and continues through the current time. As women begin once again to take charge of their own pregnancies and labors, it is natural for their minds to turn to matters of spirit since birth is itself a very spiritual experience once the medical filter is pulled away. Many women are seeking to educate themselves beyond the physiological aspects of birth and to learn how their spirits and emotions come into play during pregnancy, labor, and delivery. Spiritual Childbirth covers not only physiological occurrences of the birthing process and routine medical procedures, but also explores the realms of the spirit and gives thoughtful homage to the inner working of the female mind and soul during this formative and unique experience.
_____________________
Get Your Book Published is the essential "How-to" guide of taking your work and putting it into the best format using MS Word or Open Office software for Kindle readers and the Create Space print on demand press. This book will save you countless hours of frustration, trial and error in this editing process. To often, excellent works of art are diminished behind a shadow of amateurish formatting and poor cover design. Don't give your art up to the same fate. 
"Like many others, I would love to write books and be published. Watching friends and family struggle to get their books published had discouraged me from believing this was a possibility. Then I noticed several friends were self publishing. I was immediately interested, but at a loss as how to accomplish this task. Just this past week I was discussing this very topic with a friend, ready to start pestering any and all self-published acquaintances to share their experience. In perfect timing, I discovered this gem of a book. And as someone that has limited computer knowledge, I was beyond thrilled to discover this book contains pictures(!) with highlighting(!) walking me through the process step by step. I will be recommending this ebook to all my friends and family that write and long to be published and hopefully using this guide to publishing my own work."  …Alicia C.
_____________________
Katrina explores the energy that we put into food as it is prepared and served and how that affects the people who eat it. Over seventy-five recipes from her own personal collection are included.
"As a long time reader of Katrina's blogs, I have tried many of her recipes over the years. I can vouch for the ease of preparation, tastiness and economical factor on your budget. The recipes are simple enough for the beginner cook and tasty enough for the recipients to ask for seconds. The recipes admittedly do not fall under "healthy" eating, but readily bring back memories of my childhood table. I was confident enough that I would enjoy the recipes, that I did not even bother to "look inside" the book before purchasing. I found the first part of the book to be a delightful surprise and a sharp reminder that I used to cook with focus and love but now consider it an annoying, necessary task. Is it any wonder that my family now considers meal time an annoying interruption of more important things? Tonight's meal will be created with the focused intention of nurturing myself and my family. Thank you for the reminder of what it important, Katrina."
_____________________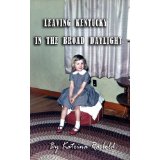 Leaving Kentucky in the Broad Daylight
Leaving Kentucky in the Broad Daylight details Katrina's life growing up in rural Kentucky in the 1960-1970s. Her lively and eccentric family adventures will make you laugh and cry in the same moment. Not always fun, but never boring, growing up in the Chapman family was always an adventure.
"While Kentucky isn't that far away, nor the author's childhood, this book takes you on a journey. This book is a beautiful glimpse into a simpler time and place yet woven with serious and complicated decisions that transcends geography and time. Situations humanity has faced in the past, present and certainly will in the future, but that are still uniquely the author's.  I read this book straight through, and at the end wanting to start on the next installment immediately!! Can't wait!"  …Chelsea Fisher
_____________________
Too often Pagan leaders feel that they are alone and that no one understands the stresses involved with leading a group of people while you are trying to go through your own life lessons at the same time. This book is not specifically a "how to" manual, but more of an "I get it. I hear you." hug. In addition to a number of musings about the joys and sorrows of passing beyond third level/degree, this book also includes excerpts from the author's own book of shadows.
"These are the personal memories and stories of someone in The Craft for decades, evocative and compelling. This is not a book that tells the reader how to climb the mountain; this is more a 'view from the top'. Whether you're an advanced level practitioner, a spiritually evolved non-Craft person or simply a curious bystander, you'll find this book both entertaining and thought-provoking."  …K. Albeck
_____________________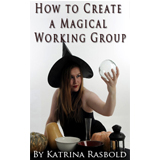 How to Create a Magical Working Group
This booklet gives thoughtful consideration for those who wish to form a magical group. In addition to helpful guidelines, an extensive set of sample by-laws is included.
"I would recommend this book to anyone interested in creating a group of people to worship together. Very helpful and informative book. I love the examples that are given!"  …Amazon Customer
_____________________